Residential Portfolio
Driveways
|
Outdoor Living
|
Patios
|
Pools
|
Walkways
|
Walls
Outdoor Living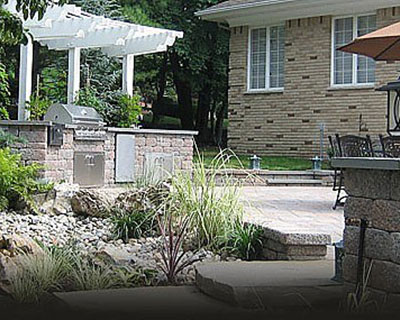 A well-planned outdoor space becomes a perfect place for rest, relaxation, and recreation. You will have a great outdoor living experience if you have patios, decks, outdoor kitchens, and fireplaces installed on your property. They spice up your outdoor spaces and make them more functional and more appealing.

When it comes to installing outdoor living features, look for professional, reliable installers. At Global Contracting, we can help you design and build the perfect outdoor amenities. We have been designing, and installing hardscapes, pools, and outdoor features for over twelve years across NJ. The areas we serve include, but not limited to, Bloomfield, Boonton, Cedar Grove, Denville, Dover, Hackettstown, Hopatcong, Irvington, Madison, Morristown, Newton, Paterson, and Wharton. Call us at (800) 292-3268 and let us help you install your dream outdoor amenity.
Outdoor Living Specialists
Our company is composed of seasoned crews with extensive experience in designing and building outdoor structures. We are certified Keystone wall contractors and preferred installers for Grinnel Paving Stones and Anchor Concrete Pavers. Our professional crews guarantee quality installations regardless of the scope of the project. We have designed and built countless outdoor living features for clients across New Jersey, so you are assured of outstanding features. Depending on the size of your yard and needs, we discuss with you other possibilities so you can maximize the appeal and function of your outdoor setup.
Whether you want an outdoor kitchen or a fireplace, we can create a dedicated space that reflects your personality and lifestyle. We can follow your design ideas or create something completely original. With us, we can transform even the most basic space into a more defined sanctuary.
Recommended Outdoor Living Features
There is a variety of outdoor living features that can be integrated into your design plan. We can install paver patios that reflect your elegant taste, peaceful gazebos and decks, fire features (fireplaces and fire pits) that activate your evenings, and functional outdoor kitchens. You can hire us to build all these or choose one that will satisfy your needs. At Global Contracting, we understand that the outdoors is an extension of your indoor living space. We take into consideration several factors when designing and installing your outdoor amenities. Some of these factors include the available space, current outdoor setup, and your budget.
Guaranteed Stunning and Durable Outdoor Amenities
Our outdoor living specialists will create a design plan that will complement with your existing indoor and outdoor theme. We believe that blending your outdoor space with the exterior appearance and interior style of your property is the best way to achieve a consistent design that is just as stunning as it is functional. We also use top-quality materials to give you durable and long-lasting amenities. We use premium pavers and stonework on patios, pool decks, sidewalks, driveways, walkways and other outdoor structures that we build.

At Global Contracting, we go beyond our comfort zones to make your project run smoothly and successful. We want you to enjoy your outdoor space by adding a unique charm and refinement to your landscape. With us, there is no limit when it comes to personalizing your outdoor living space. Call us now.

Click on the images below to view a larger display.


Photo 1

Photo 2

Photo 3

Photo 4

Photo 5

Photo 6

Photo 7

Photo 8

Photo 9

Photo 10

Photo 11

Photo 12