Hardscapes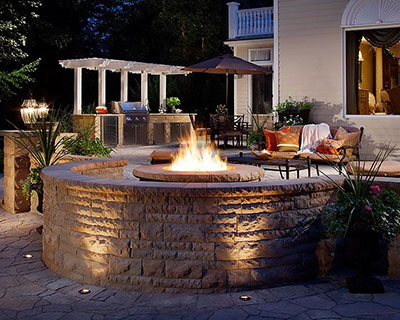 Your backyard can be the focal spot in your property by installing the right amenities. You can achieve this setup by letting your contractor create a well-balanced design plan that is not only focused on a single element. There must be various features and amenities to create a cohesive, more functional, and aesthetically appealing outdoors. And adding professionally designed hardscapes in your property is one of your best options.

But before you begin the hardscaping project, you must choose first competent and reliable contractors. Well-experienced contractors can easily create your desired outdoor setup by utilizing modern design tools, using top-quality materials, and applying proven methods and techniques. On the other hand, giving the project to inexperienced ones can lead to poorly installed features and amenities, which can become too costly to maintain. These people may not be able to maximize the functionality of your outdoor space or achieve your dream landscape. You can avoid this problem by hiring an experienced and trusted contractor like us at Global Contracting. Since we started our operations more than a decade ago, we have already designed and installed countless hardscapes for residential and commercial property owners in New Jersey. You can see most of our outstanding creations in Dover, Hackettstown, Cedar Groove, Bloomfield, Madison, and surrounding areas. If you are interested in our design and build services, dial (800) 292-3268 now.
Beautiful Designs and Long-lasting Hardscapes
Our primary goal is to provide clients with stunning hardscapes that can last a lifetime. And we are proud that all of our completed projects possess these qualities. Whether they involve building patios or installing driveways, we can assure each client that the features will be exquisitely designed and built using top-quality materials. Our design team will conduct an onsite visit and discuss with you the different design possibilities and other available options to realize your dream outdoor setup.
The durability of all your hardscapes is also guaranteed. At Global Contracting, we use only the finest construction materials and supplies. Our partner suppliers are leading manufacturers of hardscape products in the country. They provide us with innovative products that are proven first-class – from pavers to wall blocks. When you hire us to build your driveway, expect that the structure will last for decades even if it is subjected to frequent vehicle traffic and harsh weather condition.
Great Hardscape Features and Amenities
Hardscapes are vital features since they complete your outdoor setup. However, you still have to carefully choose the kind of hardscape to build in your property. Choose features that will improve the aesthetics and functionality of your outdoors, as well as the overall safety in the area. You should also consider the size of your backyard, the theme of the landscape, the topography, and the cost of maintenance. If you can't decide which hardscape features will suit well in your landscape or property, please call us at Global Contracting. Our experts can help you determine the features that will be perfect for your property and satisfy your needs.
Here are some of the hardscapes that we usually recommend to our clients:
Patios
Driveways
Walkways and Garden Steps
Pool Decks
Retaining and Sitting Walls
Fire and Water Features
Shade Structures
We urge you to contact us today to get more information about our hardscaping services. Call us at (800) 292-3268 or visit our office so we can discuss the specific details of your project.
Keystone, Gabion, Rock/Stone, Railroad tie, or other decorative walls, for appearance or functionality.
Patios
Global Paving combines pavers with stonework to transform your current backyard into a magazine quality picture.
Pools
The perfect way to finish off that in-ground pool is with a custom designed sidewalk/patio combination.
Walkways
Pavers offer the strength of concrete with unmatched versatility when designing walkways. Find out why they are the best form of walkway construction.
Driveways
Get your custom installed driveway using a variety of pavers.